On Join The Caregiver's Path Community
Helping you find meaning and support as you travel along the caregiver's path
www.TheCaregiversPathCommunity.com
What is The Caregiver's Path Community?
The Caregiver's Path Community is a place to have a deeper conversation about what matters to you, what you worry about, and what you need help with. It is an online community of people who are going through what you are going through. Viki understands how difficult it is for caregivers to get out of the house to get the support they need. This is why she has created this place where you can go in the middle of night and say your truth and know that someone is listening and understands.
This is about your life. You matter too!
The Caregiver's Path Community is where you get your "emotional insurance."
It is a safe, private, supportive, educational and compassionate place for both family and professional caregivers.
What are caregivers talking about in the Discussion Forum right now?
"I think it is time to take my husband's car keys away but how do I say it to him?"
"I am taking care of my mom and she just said the sweetest thing."
"I am really overwhelmed right now and my family isn't helping."
"I'm in a crisis! My grandfather just fell and broke his hip. What do I do next?"
What do you get when you sign up?
• A free copy of the book, The Caregiver's Path to Compassionate Decision Making: Making Choices for Those Who Can't.
• 2 webinars per month where you can get your questions answered, hear interviews with experts, receive additional education from Viki, and much more.
• 24/7 Caregiver Discussion Forum
• Online crisis support from Viki and your caregiver friends
• Audio and video trainings (coming soon)
Downloadable Bonus Gifts when you sign up:
• Two-part series on "Protecting and Respecting the Person in Your Care"
• Crisis Worksheet
• Questions to Ask When Making Medical Decisions
What does it cost?
Start up offer: $30 – This includes a free copy of The Caregiver's Path to Compassionate Decision Making: Making Choices for Those Who Can't and three months of online community support! (Non-refundable) If you already have a book, you can join for the first three months for $15.
After three months, it continues at $9.95 per month. And of course, you can cancel anytime.
How do I get started?  After June 1st,
Register at www.TheCaregiversPathCommunity.com.
"Empowering Caregivers Who Are Making Difficult Decisions"
Open to the general public
Thursday, May 17 at 7pm
Redmond Library
15990 NE 85th Street
425-885-1861
No RSVP necessary
"Empowering Caregivers who are Making Difficult Decisions"
This event is exclusively for Veterans and the Caregivers of our Veterans
Friday, May 18th from 1:00-2:30
VA Puget Sound Healthcare System
1660 S. Columbian Way
Seattle, WA 98108-1597
RSVP: 805-807-4474 kindethics@gmail.com
It will be held in building 1, room 236B – (there are 2 big buildings, one is building 1 – the administrative building and the other is building 100 – the acute care hospital). Parking can be a challenge here. If you drive onto the campus from Columbian Way, take the first right once you get onto campus. If you go a little ways, there will be a lot off to your left; that is the closest lot to building 1.
"4 Bioethics Person-Centered Tools for Decision Making"
Wednesday, MAY 23, 2012
Best Western Inn & Suites
32124 – 25th Avenue South
Federal Way, WA 98003
8:00AM – 4:00… PM (Estimated)
6 CPG Credits Estimated
Cost: $150.00 for Washington Association Professional Guardian Members
WAPG Annual Membership Meeting to follow immediately after training
Ample, Convenient Parking
Have a kind and respectful day.
Viki will be giving a presentation at the Gardens at Park Balboa on 9/8/10 from 7-8:30pm PST
The Gardens at Park Balboa, an Assisted Living residence in Van Nuys, California is a recently remodeled building located in the heart of the San Fernando Valley. They believe in encouraging the growth of their residents as individuals, while offering personalized assistance and support when needed or desired. Residents experience the benefits of belonging to an engaging community with amenities, activities and companionship, yet all the while knowing that assisted services are available around the clock, every day of the year.
Residents and their families have the added security of knowing that Safe Haven, their secure unit for Alzheimer's and dementia care is just steps away on the same property. In addition, residents have convenient geographical access to distinguished physicians and services at Valley Presbyterian Hospital, Sherman Oaks Hospital, and other acute care hospitals located in the SFV.
Have a kind and respectful day.
Viki will be interviewed on deLeon Dialogue about her new book, The Caregiver's Path to Compassionate Decision Making – Making Choices for Those Who Can't on June 18th, 6PM pacific, on http://www.blogtalkradio.com/deleondialogue You can call in to ask questions at 347-945-5853.
deLeon, a breast cancer survivor, envisions a world where everyone is privy to, and gets life saving facts and figures, so each person is empowered with the knowledge to make the necessary choices in regard to health and wellness.
This health and wellness show informs, educates and motivates listeners to stand up, stand tall, stand firm and fight back against chronic diseases. It's your life; you must decide how you handle the trauma that enters it. Are you going to rise above your situation, or are you going to let the situation rise above you? You must decide.
Proper health education and preventive health measures are key.
Website: http://www.deleondialogue.webs.com
Twitter: http://twitter.com/Choonks
Have a kind and respectful day.
The Men's Let's Talk Network on BlogTalkRadio will interview Viki about her new book, The Caregiver's Path to Compassionate Decision Making – Making Choices for Those Who Can't on June 21st, 4:30PM Pacific, on http://www.blogtalkradio.com/menletstalk Call-in Number: (347) 843-4559
The Men's Let's Talk Network (MLT) is about Faith (Belief in God the Father, God the Son and God the Holy Spirit, the FULL Gospel of the Word of God through Jesus the Christ), Family, Finances, Fitness and Facilities. MLT is talk radio at its best with internet radio programming, workshops, youth mentoring programs, training in networking and career business skills. MLT encourages business ownership and pursuing interest as an inventor.
Come join the Men's Let's Talk Network on the MLT network and on this wonderful Blog Talk Radio Program. Their weekly topics will cover the areas of FAITH, FAMILY, FINANCES AND FITNESS. Elder Jackson, Kevin Vaughan and a featured guest will bring wisdom, information, enlightenment and just a great program. Each week they will be having a "exciting new topic, new guest and a fresh look at living the way GOD wants us to live."
Website: http://www.easysite.com/menletstalk
E-Mail: menletstalk@gmail.com
Have a kind and respectful day.
Interview with Terri Corcoran from the Well Spouse Association on May 24, 9am pacific on blogtalkradio.com/kindethics. Terri is the PR Representative, Secretary of Board of Directors and Co-editor of the quarterly newsletter of the Well SpouseTM Association. She is also a full-time caregiver for her husband who suffers from Fragile-X Tremor Ataxia Syndrome, a neurological illness causing progressive physical and mental deterioration.
The Well Spouse™ Association (WSA) is a nonprofit organization which advocates for and addresses the needs of individuals caring for a chronically ill and/or disabled spouse or partner. We offer peer to peer support and educate health care professionals and the general public about the special challenges and unique issues "well" spouses face every day.
WSA was founded in 1988 by a group of 10 who got together as a result of Maggie Strong's book Mainstay: for the Well Spouse of the Chronically ill, published in 1987. Now the membership is close to 2000.
WSA offers: an online discussion Forum; a quarterly printed newsletter with stories by members; a twice-monthly e-newsletter with caregiving stories and helpful information; local face-to-face support groups throughout the U.S. and some in Canada; respite weekends; mentoring by fellow members; website containing many stories and resources regarding spousal caregiving; an annual conference.
Contact info for Well SpouseTM Association, support for spousal caregivers:
www.wellspouse.org
Email: info@wellspouse.org
63 West Main Street, Suite H, Freehold, NJ 07728
Phone: 800-838-0879
Have a kind and respectful day.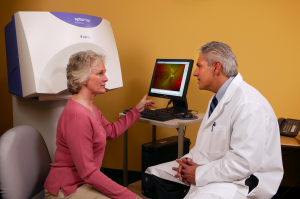 Time is limited and the patient keeps talking and talking. What can you do? I realize that patients aren't taught how to be good patients. So it is up to us to teach them. I have three recommendations for you.
Recommendation #1 Have them write out what they want to talk about before their appointment. Now I am sure you have heard this before, but the part that most doctors miss is to get them to prioritize their questions. I tell them to circle the most important 2 questions they want to discuss with you. Otherwise you just get a long list of random questions without any sense of what they truly want you to focus on. Patients understand that you can't answer all of their questions but they will be satisfied if you take care of the most urgent issues. I have a questionnaire form, Viki Kind's Office Form that you can download to help you help the patient. I encourage you to give copies to your patients to keep at home so they can fill them out before their appointment. If they haven't filled one out before they arrive, then have them work on it while they are in your waiting room. In the medical practice I used to manage, we had a clipboard and form all ready for the patient when they checked. This is an easy way to be more efficient and to increase patient satisfaction.
Now some of you might be thinking, "Good, I don't have to spend time listening, I can just read their list." Well, you can if you want but your patient will be angry and non-compliant. If your patient doesn't trust you or trust that you care about them, they won't heal as fast or follow your instructions.
Here is Recommendation #2. It is up to you to build a caring relationship with them and you do that through compassionate dialogue, not a monologue. The act of listening has its own healing properties.
Recommendation #3 The other thing you need to educate patients about is to stop asking you the, "Oh by the way…" question as you are about to walk out the door. You need to tell them up front to ask you the most important questions at the beginning of the appointment or else you won't have to time to address their concerns. Of course, this is a hard habit to break for patients and you will have to give them time to learn to be more direct with you.
Bonus Information: Unfortunately, some of these techniques will not work with certain cultures as they use a form of indirect communication which dances around the topic and takes longer as the only way they know how to communicate. But for most of your patients, these techniques will help you manage your time while caring for your patients.
Have a kind and respectful day.