I am excited to let you know about a new book I have just finished which has uniquely designed visual tools to help with difficult conversations, lots of articles you can share with others, and a step-by-step conversation guide to help with issues such as denial, guilt and evaluating danger. – To order use the contact page or email Viki at kindethics@gmail.com

   New — Resource Workbook, Conversation Guide and Visual Toolkit
100 pages (8½ x 11) Full sized, photocopiable worksheets
Usually $40 – Book launch SPECIAL: $32.95 plus sales tax and shipping
(You can order it by emailing me at kindethics@gmail.com)
Here are a few of the resources included the workbook:
Section 1: Medical Decision Making Tools
Crisis Planning Article and Worksheet
Drawing an Option Roadmap Article and Diagram
Weighing the Options – Risks, Benefits and Burdens Exercise
Evaluating Treatment Options Article and Algorithm
Two-Hand Test for Making Medical Decisions Diagram
5-Step Process to Help the Person Get Out of Denial
Section 2: Evaluating Danger and Risk Tools
Protecting vs. Respecting – Managing the Danger Article
Evaluating Risk for Those Without Capacity Diagram
Evaluating the Dangers Worksheet
Section 3: Caregiver Conversation and Support Tools
The Ladder Diagram – The Caregiver's Needs Count Too!
How is Your Relationship Now That Illness Has Come Into Your Lives?
Viki Kind's 4-Step Process for Asking For and Accepting Help
How to Say "No" Handout
Section 4: End-of-Life Conversation Tools
Quality of Life Statement Template
Guidance for My Decision(s) Maker Worksheet
What I Want My Doctor to Know About My Faith and/or Culture
Two CPR vs. DNR Articles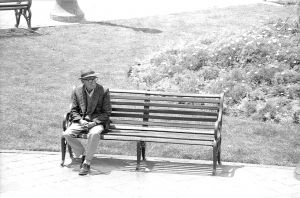 Special thanks to Mary Twomey, MSW, Co-Director, Center of Excellence in Elder Abuse & Neglect for this wonderful article.
For many of us, the holidays offer a once-a-year time to visit with elderly relatives who live at a distance. These holiday visits are a good time to assess what assistance parents or other elderly loved ones might need. There are many things to consider. Does an elderly loved one require help with chores or housekeeping, personal care, shopping and meal preparation, money management, transportation, medical checkups, or medications? Are they isolated or, do they live with others? If living with another, are they dependent on that person for care? Is that person an appropriate caregiver? During your visit, keep an eye out for warning signs of self-neglect, or abuse or neglect by others. If, before you make your trip, you suspect that your loved one needs extra assistance, plan a longer stay so that you can visit local aging service organizations during regular work hours. Allow enough time during your visit to accomplish necessary tasks.
Make the most of your visits by taking some private time with the elder to discuss future planning. Allow time for them to express anxieties. You can decide together what needs to be done and who can help. Be observant while you are visiting. Realize that you may need to arrange a visit to a doctor for a full evaluation.
Remember that 75-90% of elder abuse is committed by family members. Don't let denial become an obstacle to planning that could prevent future emergencies. This is not the time to hide your head in the sand, setting the stage for future regrets. Some warning signs of elder abuse are:
Self-Neglect – If the senior lives alone and does not have anyone providing assistance, self-neglect may become an issue. Some things to look for include:
• Senior appears confused
• Senior is no longer able to handle meal preparation, house cleaning, laundry, bathing, or timely bill payment
• Senior seems depressed
• Senior is drinking too much or is overusing drugs
• Senior is falling frequently
• Senior appears undernourished, dehydrated, under-medicated, or is getting care for problems with eyesight, hearing, dental problems, continence, etc.
Neglect or Abuse by others – If the senior lives with others or ostensibly has people helping with care, neglect or abuse may become an issue. Some things to look for include:
• Presence of "new best friend" who is willing to care for the senior for little or no cost
• Recent change in banking or spending patterns
• Caregiver isolates older person from friends and family
• Caregiver has problems with drugs, alcohol, anger management, and emotional instability
• Caregiver is financially dependent on the older person
• Family pet seems neglected or abused
• You find an abundance of mail and/or phone solicitations for money ("You're our lucky winner!")
• Senior seems afraid of the caregiver
• Senior has unexplained bruises, cuts, etc.
• Senior has "bed sores" (pressure sores from lying in one place for too long)
• Senior appears dirty, undernourished, dehydrated, over- or under-medicated, or is not receiving needed care for problems with eyesight, hearing, dental issues, continence.
What should you do?
• If you suspect your older loved one is at risk, call your local Adult Protective Services or Office on Aging or go to www.centeronelderabuse.org for more information.
• Seniors may not be aware of a gradual decline and may be reluctant or unable to plan for needed care. Support and guidance from family members can help prevent serious accidents and/or future health complications. Noticing and correcting problems can help keep seniors safely in their homes.
• Learn more about common geriatric conditions, medications and markers of abuse. Refer to Geriatric Pocket Doc, a compact guide book for non-physicians. For info, visit www.centeronelderabuse.org and click Geriatric Pocket Doc in the bottom right corner.
• Introduce yourself to responsible neighbors and friends. Give them your address and phone numbers in case of an emergency.
• Ask your elderly loved ones directly if they are afraid of anyone, if anyone is taking things without their permission; if anyone is asking them to do things they are not comfortable with, or if anyone is putting them down.
RESOURCES:
Center of Excellence in Elder Abuse and Neglect: www.centeronelderabuse.org. A program of the University of California Irvine, the CoE conducts research, training, advocacy, and direct services on the issue of elder abuse and neglect.
Eldercare Locator: Since 1991, the Eldercare Locator, a nationwide toll-free service provided by U.S. Administration on Aging, has helped older adults and their caregivers find local services for seniors. You may visit the website at www.eldercare.gov or speak to an Information Specialist who has access to a database of more than 4,800 entries. The toll-free Eldercare Locator service operates Monday through Friday, 9:00 a.m. to 8:00 p.m. (Eastern time) and can be reached at 1-800-677-1116.
AARP: AARP provides caregiving worksheets and tips on "Long-Distance Issues" http://assets.aarp.org/external_sites/caregiving/planAhead/long_distance_issues.html
Center of Excellence in Elder Abuse and Neglect
University of California, Irvine Program in Geriatrics
www.centeronelderabuse.org 714-456-5530

On Join The Caregiver's Path Community
Helping you find meaning and support as you travel along the caregiver's path
www.TheCaregiversPathCommunity.com
What is The Caregiver's Path Community?
The Caregiver's Path Community is a place to have a deeper conversation about what matters to you, what you worry about, and what you need help with. It is an online community of people who are going through what you are going through. Viki understands how difficult it is for caregivers to get out of the house to get the support they need. This is why she has created this place where you can go in the middle of night and say your truth and know that someone is listening and understands.
This is about your life. You matter too!
The Caregiver's Path Community is where you get your "emotional insurance."
It is a safe, private, supportive, educational and compassionate place for both family and professional caregivers.
What are caregivers talking about in the Discussion Forum right now?
"I think it is time to take my husband's car keys away but how do I say it to him?"
"I am taking care of my mom and she just said the sweetest thing."
"I am really overwhelmed right now and my family isn't helping."
"I'm in a crisis! My grandfather just fell and broke his hip. What do I do next?"
What do you get when you sign up?
• A free copy of the book, The Caregiver's Path to Compassionate Decision Making: Making Choices for Those Who Can't.
• 2 webinars per month where you can get your questions answered, hear interviews with experts, receive additional education from Viki, and much more.
• 24/7 Caregiver Discussion Forum
• Online crisis support from Viki and your caregiver friends
• Audio and video trainings (coming soon)
Downloadable Bonus Gifts when you sign up:
• Two-part series on "Protecting and Respecting the Person in Your Care"
• Crisis Worksheet
• Questions to Ask When Making Medical Decisions
What does it cost?
Start up offer: $30 – This includes a free copy of The Caregiver's Path to Compassionate Decision Making: Making Choices for Those Who Can't and three months of online community support! (Non-refundable) If you already have a book, you can join for the first three months for $15.
After three months, it continues at $9.95 per month. And of course, you can cancel anytime.
How do I get started?  After June 1st,
Register at www.TheCaregiversPathCommunity.com.
For those of you in the Seattle area, I will be exhibiting at the Medical Library Association conference and they are giving away free passes to the exhibit hall May 19-22. If you would like to attend, just email me at kindethics@gmail.com and I will send you the free pass. When you are there, stop by my booth #138 and say hi. Feel free to share this with others who might be interested.
Have a kind and respectful day.
Viki will be the guest on WBLJ NEWSTALK 1230 AM in Dalton, GA with host, Certified Elder Law Attorney, David McGuffey. April 4th, 9AM EDT, 6AM PDT