For those of you in the Seattle area, I will be exhibiting at the Medical Library Association conference and they are giving away free passes to the exhibit hall May 19-22. If you would like to attend, just email me at kindethics@gmail.com and I will send you the free pass. When you are there, stop by my booth #138 and say hi. Feel free to share this with others who might be interested.
Have a kind and respectful day.
Join me at the Texas NASW – National Association Of Social Workers on Oct. 8. I will be speaking at 2:15. http://www.naswtx.org

Founded in 1957 the National Association of Social Workers (NASW) is the largest organization of professional social workers in the world, with over 155,000 members in 55 chapters. The Texas Chapter, with about 5,700 members, is the major professional social work organization in the state. NASW is committed to advancing professional social work practice and the profession; and to promoting human rights, social and economic justice, and unimpeded access to services for everyone. Its members work in a broad range of settings including hospitals and other health care settings, community agencies, government, academia, business, nursing homes, schools, and private practice.
The Chapter office is located at 810 W. 11th Street, Austin, Texas 78701-2010. The staff is available to respond to member inquiries regarding social work practice, legislative and social policy issues, continuing education, licensing issues, and other informational requests.
The Chapter has numerous branches, committees and other leadership opportunities that involve members throughout the state, and better serve the social work community. These entities work on professional, social policy, and legislative issues, sponsor conferences, and provide a source of networking for members.
NASW's goals include improving the quality of life and ensuring that the same rights and opportunities
are enjoyed by all. In addition, NASW strives to:
• Advance the quality of social work practice, improve the knowledge base required for
practice, and promote professional development.
• Promote the strength, unity, and recognition of the social work profession and the use of
standards to protect the consumer.
• Propose and promote sound public policies and programs aimed at meeting human needs
and improving quality of life.
Have a kind and respectful day.
THE CAREGIVER'S PATH TO COMPASSIONATE DECISION MAKE: Making Choices For Those Who Can't IS THE WINNER OF THE 2011 CAREGIVER FRIENDLY® AWARD FROM TODAY'S CAREGIVER MAGAZINE.
Today's Caregiver, the first national magazine for all family and professional caregivers, and caregiver.com announce the 2011 Caregiver Friendly® Award recipients. The Caregiver FRIENDLY® Awards are designed to celebrate products, services, books and media created with the needs of caregivers in mind.
About The Caregiver Friendly Awards:
Caregiver Friendly® Awards are presented by Today's Caregiver magazine to celebrate outstanding books, media, products and services designed with the best interest of the family caregiver in mind. Today's Caregiver, launched in 1995, is published by Caregiver Media Group, which also produces the Fearless Caregiver Conferences, www.caregiver.com and The Fearless Caregiver book, which teaches caregivers how to become their loved one's fearless advocates within the healthcare system.
http://www.caregiver.com/caregiverfriendly/2011/2011_winners.htm
"The average caregiver is responsible for over $40,000 in health related expenditures each year, in either personal or directed funds," says Gary Barg, Today's Caregiver editor-in-chief. "This award is designed to help family caregivers recognize and reward those organizations who will care for them in as committed a manner as they care for their loved ones."
Fearless Caregiver Conference in Boca Raton, FL
Thursday July 14, 2011
8:00am – 2:30pm
Family Track and Professional Track with CEUs
Embassy Suites Hotel
661 NW 53rd Street
Boca Raton, FL 33487
http://www.caregiver.com/fearlessconference/index.htm
Have a kind and respectful day.
3 Steps Forward
Thursday, May 19th from 9-9:30EDT on WCOM 103.5 FM Carrboro, NC
DJ / Host: Deidre Hughey
3 Steps Forward is a program is designed for women who want more out of life and for their life but don't have the time to sift through mounds of information available. The host, Deidre Hughey, knows about the restrictions on your time – as a personal empowerment speaker, she hears about it everyday!
This is her answer to you…
The concept is simple.
Invite female therapists, life coaches and speakers with a strong message for other women as it relates to their personal lives. Each guest will iterate 3 actionable steps for the listeners to take this week to move their personal life in a positive, forward direction.
The goal?
To inspire women, just like you, to push aside your limits, embrace your true self and realize your dreams! I have 2 guests for a total of 30 minutes or less for each, plus we play some "put a smile on your face" songs. So, sit back, relax and listen to some inspiration that is bound to make a difference in your life.
Take 3 Steps Forward…
This week and Every week!
Have a kind and respectful day.
THE CAREGIVER'S PATH to COMPASSIONATE DECISION MAKING: Making Choices for Those Who Can't
Publisher: Greanleaf Book Group LLC Paperback July 1, 2010 Price: $14.95 USA
"From the front cover which shows two hands in the shape of a heart holding a rock which is also in the shape of a heart, THE CAREGIVER'S PATH to COMPASSIONATE DECISION MAKING: Making Choices for Those Who Can't no doubt is a rock size lump in the throat to all who deny they will eventually need this book.
THE CAREGIVER'S PATH to COMPASSIONATE DECISION MAKING is a great book and a KIND tearjerker too! Where no tomorrow is guaranteed, our loved ones might get to where they are without full faculties and can?t answer the questions or direct others to who they want to answer questions in their best interests or have documentation which represents such and their convictions. Author Viki Kind?s mastery is in getting the reader through the battling of keeping one?s composure to making the tough choices when a loved one whose outlook is tainted from dying needs support. The fourteen chapters could stand alone, each as a teaching tool, for care givers.
The first part of the book concerns medical decisions and the second part concerns death. "Did I matter?" is a heartfelt question no one wants to be unable to answer at the destination life holds. Anyone with a heart will see through watery eyes reading Author Viki Kind's The Journey Through The Early Days of Dying and The Final Days of Dying. Kind?s step-by-step process for caregivers to use is simple: 1) a decision making framework of 2) Shared Decision Making Model 3) Sliding Scale for Decision Making 4) The Assent Tool Author Viki Kind provides an authentic knowing voice on the necessities of a compassionate outlook on the growing problem. It is a problem now affecting the whole mass of baby boomers seeking and searching for these very same tough questions and one day will too be faced with the bittersweet answers because they get one to fess up to mortality?s limits, timeliness of determining a loved one's competency and capacity, and the need to at least have an understanding enough to lead one to valid choices.
Baby Boomers of late are that aging escapes no one. In regencies of "60 is the new 50,? that only goes so far in winning but a mind game not the war of health and longevity. Sooner or later there is no candy-coating that 100 is not the new 90 because that is a mute point; most don?t make it to that age. Likewise, in the best interest of loved ones is this "tell it like it is,? pull no punches, optimal reference guide as a companion to those readers during the tough times they will eventually face; when a test of courage and on what basis the most difficult medical decisions are made. Unequivocally, then the answer to "Did I matter?? is answered by actions of the caregiver and is brought into the present tense. Meaning that, that is when author Viki Kind's book, and its bittersweet bread and butter and not a lot of fluff, go a long way into making that very last release of a loved one's grip from your hand be one in which you knew you did the best you could (do) until the end. THE CAREGIVER'S PATH to COMPASSIONATE DECISION MAKING: Making Choices for Those Who Can't is a rare find with great merit worth (and worthy of) holding onto the rest of one's life."
Salvador SeBasco Literary Director and host of THE INSIDE VIEW SHOW (TM) BROADCAST book critic, on staff with a CNN affiliate station.
April 10, 2011


Quote of the month:
"The great gift of human beings is that we have the power of empathy." Meryl Streep
Empathy
Last year, during one of my lectures about end of life communication, a doctor asked me some questions about hospice care. He explained that his question was about his wife who had end-stage lung cancer. They were still trying to fight the disease but the disease was winning. He wanted to know more about the option of hospice and if it would be appropriate for his wife. I told him I would speak to him in greater detail after the lecture.
After the lecture, he began to tell me about the medical condition and the medical treatments that his wife was going through. This was a man who loved his wife and was desperate to keep her alive. After listening to the story, I asked what his wife would say about continuing with the treatments vs. going on hospice. I wanted to hear her point of view. I asked him directly, "What would your wife tell me about what it is like to be going through this and how does she feel about it." He then began to tell me about what he was experiencing and how exhausted and overwhelmed he was. I realized I was talking to someone with incredible caregiver fatigue. I listened and tried to be supportive. I recommended support group options and other services that might help him with his fatigue.
Then once again, I asked about how his wife perceived her experience. He couldn't answer. Again it became about medicine. It was as if he was reporting on an intriguing patient. I found it fascinating that he could not begin to explain or to experience what his wife was feeling. In the hour I spent with him, he could never say my wife would say … or my wife would want… This was not because he didn't care about what she was experiencing, it was because he cared too much that he couldn't begin to comprehend what was going on inside her.
So many things were going on. The first issue I was dealing with was denial. He didn't want to believe that he couldn't fix this for his wife. Doctors want to heal and even more so, they want to heal the ones they love. He was trapped inside his profession and could only focus on what medicine had to offer his wife. He kept dancing on the edge of the topic of death by asking about what hospice might have to offer but ran away from it as I described the benefits of hospice. To choose hospice felt like choosing death. And he couldn't begin to accept that death would be taking his young wife very soon.
The second issue was that he was treating his own wife. He was one of her doctors so he had disconnected from her by making her the patient. This is why doctors aren't supposed to treat their own family or close friends. When a doctor treats their own loved one, he can become blind to what is in front of him. This gentleman was a good doctor and he would have put any of his other patients in this end-stage condition on hospice. But he couldn't see that as a valid option for his own wife. He was blinded by his love.
The third issue was that he couldn't empathize with what his wife was feeling. It hurt him too much to begin to imagine what this was like for his wife. This was not a man who couldn't speak of emotions. He expressed his own emotions about the situation freely. But he couldn't tap into his empathy for "his patient" or "his wife" because it was too painful. Our brain can only feel what it can survive feeling. It shuts down when it becomes too much. His deep and profound pain was palpable and I hurt for him.
My heart hurt for his wife as well. I tried to explain that his desperate need to cure her was limiting her option of having good end of life support. (Okay, I didn't say it quite that way.) He told me her pain was not being managed (in technical terms), even though he was trying to help her. I explained that hospice is really good at pain management and he should use them as a resource. I also explained that hospice provide the intangibles such as support for the family, support for him and a safe person for his wife to talk to about her hopes and fears. When communicating about the upcoming death is forbidden, the patient misses out when they are unable to say what they need to say. Her voice wasn't being heard in the treatment decisions and her existential suffering wasn't being addressed.
This is one of the best gifts of a hospice. The person has a safe person to talk to when she can't talk to her own loved one. Or if they don't have a hospice worker, a good friend or family member can be this person. I wish that the spouse could be this person, but often it is too painful. This doctor/husband was not unusual. He could not bear his wife's suffering. I meet many people who can not talk to their own loved own about dying. That is why I am there. That is why we have social workers and chaplains in hospitals. Doctors can also be this safe person if they have the courage to take on this role.
I don't know if he was able to get some support for himself and his wife and if her pain is being managed. I hope so. I know that I can only go so far with someone in denial. I can only dance on the edge of subject with them so they won't feel so alone or afraid. Eventually, the person will come closer when he or she is ready.
When we want to help others we need to have the courage to:
See the suffering
Acknowledge the suffering
Do something about the suffering, then
Heal our own suffering
I went to a funeral this weekend and it reminded me how little we know about the people in our lives. As the different people stood up and told stories about how this gentleman had affected their lives, the richness of who this man had been, came alive. I realized how much more I could have learned about him and the life he had led. I truly have missed out in not getting to know this person better.
I remember when I visited my aunt and one of her caregivers showed me a picture of my aunt on her phone. This caregiver considered my aunt her best friend. I was close to my aunt and had never even heard about this person. How could this be? Was I not asking the right questions or not showing an interest in my aunt's life? I thought I was but now I don't know. There was much more to her than I realized. I only saw her in relationship to who we were to each other. I didn't see the many people she touched and how she affected the world.
It would be wonderful if we could take some time out and find out something new about the people we love. Try to see them as the world sees them. Find out more about how they make a difference in the world. Or if you can, try to see their world through their eyes. The people in our lives matter in more ways than we could ever imagine.
Have a kind and respectful day.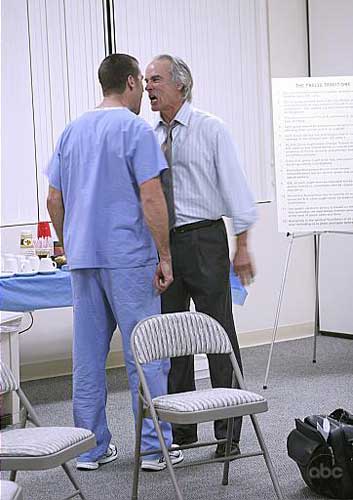 Quote of the day by William James: "Whenever you're in conflict with someone, there is one factor that can make the difference between damaging your relationship and deepening it. That factor is attitude."
Taking Action to Solve the Healthcare Conflict
It doesn't matter who is the problem or who is at fault. You have to take action now to get the conflict resolved and to move forward taking care of your loved one. If you have been part of the problem, say you're sorry. If you aren't the problem, don't worry about getting an apology. You don't have time to stay angry. Your loved one needs help. The first thing you want to do is to deal with any conflicts when they first arise instead of letting them escalate. There are problem solvers throughout the hospital: The social worker, the charge nurse, the chaplain, the bioethics committee, the hospital administrator and in some places an ombudsman. These people have been trained to help facilitate the conflicts that occur in the hospital. If the conflict is happening in the doctor's office, then you are on your own. But don't worry, after you read the next few pages, you will be a much better problem solver yourself.
The first thing you need to do is to look at your role in the conflict. Am I making this situation better or worse? What could I do to make this situation better? Is this how I would react on a normal day? Or am I just overwhelmed, afraid, in shock or in grief and I'm having a hard time coping with this situation? Sometimes we need to take a timeout to catch our breath before we can interact with others and make any meaningful decisions. It is normal for you to feel the pressures and weight of these decisions. When any of us are in a crisis, we are not at our best. But unfortunately, you may not have the time to process what you're going through and be able to feel like yourself again. Sometimes we have to make the decisions while we are stressed. Let people know how hard this is for you so they will understand what you are going through.
A couple of questions, you can ask yourself, may help you begin to see the situation differently. Are you making inaccurate assumptions? Sometimes we have misunderstood or not heard correctly what has been said to us. Before you get upset, make sure that you have the right information.
Are you more interested in "being right" or "getting it right"? This is a tough one. If you are determined that your way is the only way you, then you are going to have a difficult time resolving the conflicts with the healthcare team. Too often people discover that the way they thought things should go, turns out to be a mistake. I have seen this many times when the bioethics committee comes in to help with the ethical dilemma. The doctor is determined that his way is the right way and he is frustrated that the patient will not agree. Or the patient's loved one comes in ready to do battle. Here's what happens. As the meeting goes on, the people in the room hear the other parts of the story that they didn't know before. Perhaps the doctor finds out that the reason the patient doesn't want to do the surgery is because there's no one at home to take care of them. The patient isn't trying to be difficult, they are just feeling helpless. Or the patient's family finds out that they have misunderstood what the doctors said about the disease or the possibilities of a cure. Once the misunderstandings have been cleared up, people calm down and new decisions can be made.
You have a lot of power in all of these interactions. You have the power to escalate or de-escalate the anger. You might say something like, "That's the stupidest thing I've ever heard." Well you can say this but it is only going to make the other person angry and you will still be no closer to getting what your loved one needs. Instead you might want to try a different approach. You might want to say, "Let me see if I understand what you are saying." Or, "It seems like we both are trying to achieve the same thing but in different ways. Maybe if we …" If you think there is some miscommunication going on you can say, "I heard what you said. Let me repeat it back to you to see if I have understood you correctly."
When I tell people this idea, people will say to me, "I don't like what they are saying and I don't agree with what they are saying." Of course you don't agree. You are in a conflict. But I never said you should agree. All I said was that you should listen to their point of view. This is the secret that mediators use to solve dilemmas all the time. One of the main things a mediator does is to help the people in the room to stop and listen to each other. You are listening to figure out if there is new information you didn't hear before, or if there is some kind of misunderstanding or if you can understand more about why the other person is so passionate about their point of view.
This is where your power is in the middle of the conflict. It is not in raising your voice or pushing for everyone to do it your way. The power comes from understanding what is really going on and hearing what the other person needs you to know about what this means to them. I will never say that to listen means to agree; not at all. It just means to listen.
When you listen to resolve a conflict, the anger and emotions will decrease and your empathy will increase. You may surprise yourself when you finally hear what they are really saying because you may find yourself feeling more compassionate and understanding of their position. You will know that the listening is working when the other person begins to calm down. The more you listen, the more you will be able to hear the deeper message behind the other person's words. Unless you have a really bad person in the room, you need to remember that the people helping your loved one want your loved one to get better too. (If there is someone who is really bad on the healthcare team, why are you keeping them on your team? You are allowed to change who is caring for you in a hospital. You can always ask for a different doctor to be your doctor.)
You are probably not disagreeing about the goal of getting your loved one better; you are probably just disagreeing on the how. Give the person you are arguing with the benefit of the doubt and stop and listen to what they have to offer. You may like what you hear. (I have seen in many bioethics meetings that people will completely change their minds and agree with the other side once they understand what is really going on.)
You won't be able to solve the problem until you understand the interests behind the position. What does this mean? It means that what the person is saying he wants is only part of the issue. The trick is to figure out what the demand really represents. Let me give you an example. The loved one is demanding that the patient get CPR. The doctor wants the patient to be made a DNR (Do Not Resuscitate). Now there is a conflict.
If I was helping these two to solve their conflict, I would first listen to try to figure out why it is so important to them to have their way. I would ask the patient's loved one, "Why it is so important to have the patient get CPR?" They may tell me that they are desperate for the person to recover so they can ask for forgiveness. They haven't been a good son and they want to say I'm sorry. Or they might say that it is against the patient's religion to be a DNR. Or they might tell me that the patient said he would want CPR and they are trying to honor his wishes.
Do you begin to see now why what they want matters? If I can figure out why they want ____, then I can figure out how to help them. (And I figure this out by listening.) The same thing goes for the doctor. Why does the doctor want the patient to be DNR? Well perhaps the patient is close to dying and the doctor knows CPR won't work. Or the doctor doesn't want to prolong the suffering of the patient. Or the doctor doesn't want to lose the business. Again, do you see why the why matters?
This is the power of listening. You can discover what is really going on behind the person's demands and begin to figure out a way to solve it together. When you are listening, focus on figuring out what you have in common. Are you both trying to get the patient better? Are you both trying to respect the patient's wishes? Anything you can find in common will become a starting place for problem solving.
I would like to give you a couple of quick tips to help you problem solve. The first is to separate the person from the problem. How do we do this? In these situations, it becomes a conflict between "my way" and "your way". And we just keep battling until either one of us wins or we both get more frustrated. This doesn't do the patient any good and it wastes our time. Let me give you an example. The patient comes in and he hasn't been taking his medication. Usually the doctor would say, "Why haven't you been taking your medication?" And what the doctor really means is, "Why are you being a problem?" This approach rarely works. So, instead you might want to say to the patient, "How are you and I going to solve the problem of the medicine getting into you?" The problem becomes the third person in the room. You have separated the person from the problem. Now the patient isn't the problem, the problem is the problem. This takes the pressure off the situation and the two of you can begin to brainstorm to figure out a workable solution.
One quick note before you start brainstorming, make sure you remember to understand what the real issue is before you start. It is a waste of your time to work on solving the wrong problem. Is the patient not taking his medicine because he can't afford it? Is he not taking his medicine because he doesn't like the way it makes him feel? Or is he not able to cut the pill in half or open the medicine bottle? These are just a few examples of the many reasons a patient might not be taking the medications. Figure out what the real issue is and you'll be able to solve the problem together.
The second tip is to use brainstorming to come up with more options. Brainstorming is when everyone comes up with new ideas on how to solve the problem. One technique which mediators use is to make sure the people in the conflict come up with at least three alternatives. This begins to break the conflict right away. It is no longer my way versus your way. As you begin, you can start with my way, your way or do nothing then work from there. You will find that the more options you can think of, the more likely you will be able to find a solution that people can live with. As you continue to brainstorm, you might realize that you could do a little bit of what you want and a little bit of what they want. Or you could throw out both of your plans and start again. Not only does brainstorming create a safe place to come up with new options but because you two are doing it together, it will change the experience from a combative process into a collaborative process.
Another you might want to do is to take a "time-out". Not only does it help people calm down but in it also allows people to think about what has been discussed and to process what they have learned about the situation. We have all heard the phrase, "I have to sleep on it." Sometimes we have to have patience and allow the other person some time to think. If you try to push someone who is not ready into making a decision, you may get a decision but it probably won't last. The person will come back the next day and say, "I changed my mind." I am not surprised when this happens because the person wasn't ready to decide in the first place. Also, in some cultures, people need to go home and talk with their family or religious and community advisors. Allow people the space and time to make good decisions.
The most important part of this process is to work together. If you stay in a battle mode, you will continue to battle. When you stay in the war, the patient loses. Take responsibility for your part and make the effort to fix the situation. Be willing to say, "I was wrong. Or, I didn't understand." Realize that you can disagree without being disrespectful and hurtful. Figure out how you can invite this person into the problem solving process with you, especially during healthcare conflicts. You are still going to have to deal with this doctor or person on the healthcare team tomorrow. So it is better to peacefully resolve the issues than to create a battleground. Take the time to listen so you can begin to understand and empathize with the other person. You have the power to turn the conflict into an opportunity for things to get better.
Have a kind and respectful day.

I have worked in a medical office and I know how difficult it can be to keep the doctor on schedule, deal with the patients that are suffering and to make sure the bills get sent to the insurance company on time. I would like to honor this month the great doctor office's staff that go the extra mile to make sure that the patients get the care they need. I also know that this group of workers don't always get the recognition they deserve. So here is what I would like to do this month.
Tell me about your favorite doctor's office and why they have made a difference in your life. I will pick one story to feature on my blog and the person who submitted the winning story and the winning doctor's office will each receive a cake from BakeAWish. (Of course, I can change your name if you don't want to be mentioned on my site.) The last date to send in your story is Nov. 8, 2009. I will announce the winner on my blog on Nov. 12th.
Send your story to me at Viki@KindEthics.com
Bake Me A Wish: http://tinyurl.com/rylvyz
Have a kind and respectful day.


You may be thinking of doing something nice for your loved one's doctor's office, hospital staff, or long term facility where your loved one lives. But don't do something in December. Everyone brings the staff food and treats in December and a lot of it goes to waste (waist). The staff would love to have your bring something in October or some other month when they can truly appreciate it. And, your efforts will be noticed because it is not just one more person bringing in a treat, but you thinking of them at a different time of the year.
Here are a couple of yummy places where you can order something to be delivered.
Chocolates Gifts: http://tinyurl.com/p8abol
Cakes: http://tinyurl.com/rylvyz
Tea: http://tinyurl.com/nt5gqc
Coffee: http://tinyurl.com/l6x2d5
Have a kind and respectful day.